---
SHIMMER 71
Saturday, March 28, 2015
Bell Time: Noon (Pacific)
Santa Clara County Fairgrounds
344 Tully Road
San Jose, CA 95111
First Row Reserved - $75
Second Row Reserved - $50
General Admission - $25
The SHIMMER 71 event is part of "The WWNLive Experience" events, alongside shows from Evolve, the King of Indies tournament, and more. Tickets are being sold via the World Wrestling Network.
Click here to purchase tickets to SHIMMER 71!
---
SHIMMER 72-75
Saturday & Sunday, April 11 & 12, 2015
Bell Times: Sat. 2PM, Sun. 1PM (Central)
Berwyn Eagles Club
6309 26th Street
Berwyn, IL 60402
First Row Reserved - SOLD OUT
Second Row Reserved - $50 per day
General Admission - $30 per day
Use the PayPal buttons below to place an online order. If you would like to purchase tickets with a money order, please E-mail
shimmernews@yahoo.com
for mail order instructions.
SECOND ROW RESERVED - FULL WEEKEND 4/11 & 4/12 - $100
SECOND ROW RESERVED - SATURDAY 4/11 - $50
SECOND ROW RESERVED - SUNDAY 4/12 - $50
GENERAL ADMISSION - FULL WEEKEND 4/11 & 4/12 - $60
GENERAL ADMISSION - SATURDAY 4/11 - $30
GENERAL ADMISSION - SUNDAY 4/12 - $30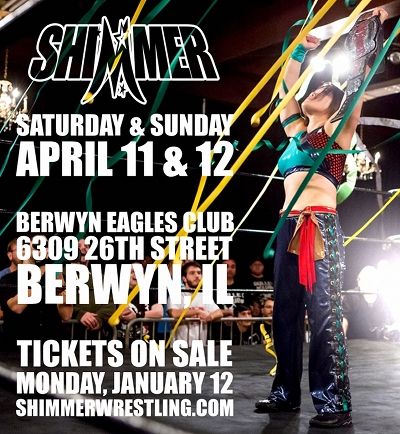 ---